As an educator, there are so many stresses during the COVID-19 outbreak: your job security, the state of the world, the academic success and futures of your students. But to top it all off, you genuinely care about the young people you teach and how they're coping during the crisis. That's the biggest concern of all.
The teenage years are difficult to navigate at the best of times, but going through growing pains during a global pandemic is quite the unusual scenario.
You know that not everyone is self-isolating in a perfectly safe and stable family environment, and how easy it is in a moment of crisis and school closures to let higher learning and intellectual nourishment fall by the wayside.
You're worried about how your students are coping - teenagers aren't always able to fully express their worries and concerns. In short, it's a scary time for everyone, and you, as a trusted guardian, want to help your students get through this in any way you can. Learning must continue for the students, if they are to succeed in their future lives and continue to enrich their minds.
Edge Factor Provides Engaging At-Home Learning During School Closures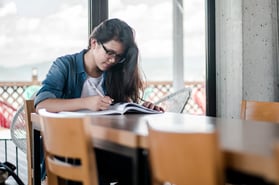 The best way to help students stay safe at this time is to provide them with engaging, educational distractions from current events. Content that will continue to educate them at home in a meaningful way, yet is also fun and inspiring enough to keep them occupied for large amounts of time.
It also wouldn't hurt to have content that you can point parents to as an accessible resource. Parents are handling some of your usual duties now, and most have much less experience than you.
Edge Factor has always made online content, so we have not had to go through too many contortions to make content available during COVID-19. We make award-winning films and TV shows that are designed to be engaging and bingeable, yet also stimulate young minds and inspire them to pursue their passions: then we show them how those passions can be turned into successful careers.
View Content for Free and Inspire Students to Think Beyond Isolation
Visit Edge Factor's Student Experience page for at-home learning during school closures: it's ready for students to explore. For further content options to deepen the student experience, check out Edge Factor's pricing page.