The Canadian Fire Alarm Association (CFAA) was established in 1973 to bring together and support the fire alarm industry in Canada. CFAA now has 400+ members and over 3000 registered fire alarm technicians! CFAA is partnering with Edge Factor to showcase the skills, education, processes and innovative technology required to launch a successful career in the fire alarm industry.

Edge Factor creates high-impact media and e-learning tools to inspire learners of all ages to explore, prepare and connect on their career journey. Through our partnership with CFAA, we had the opportunity to film career exploration media at a company called Mircom and at Seneca College to highlight the skills, processes, STEAM and Soft Skills that are used by Fire Alarm Technicians on-the-job!
Real Life Stories of Fire Alarm Technicians
Using the power of cinematic storytelling, Edge Factor takes learners on a career journey from "I have no idea what I want to do with my life!" all the way to, "I have browsed the opportunities, made informed decisions, and launched a local training and career pathway."

Edge Factor is a family-friendly career exploration platform, where students, parents, and job-seekers become inspired to launch their own training and career pathways. It features real life stories of people pushing back the edge of what's possible and using their minds, hands, and technology to build the future and impact lives. In partnership with CFAA, the Edge Factor film crew went behind closed doors at Seneca College and Mircom to film Career Profiles, Skilled Responders, Geek Out videos.
High school students and job seekers explore a "day in the life" of a Fire Alarm Technician as they watch a Career Profile video featuring Marlon Malcolm from Mircom. They'll learn about the typical responsibilities, tools, and equipment used, and what types of STEAM (Science, Technology, Engineering, Art, and Math) and Soft Skills are important in this career.
"I was inspired to pursue a career in the Fire Alarm Industry because when I was growing up I saw the damage a fire could do, and now I know my job is to help people prevent fires to save lives from fire," said Maron Malcolm.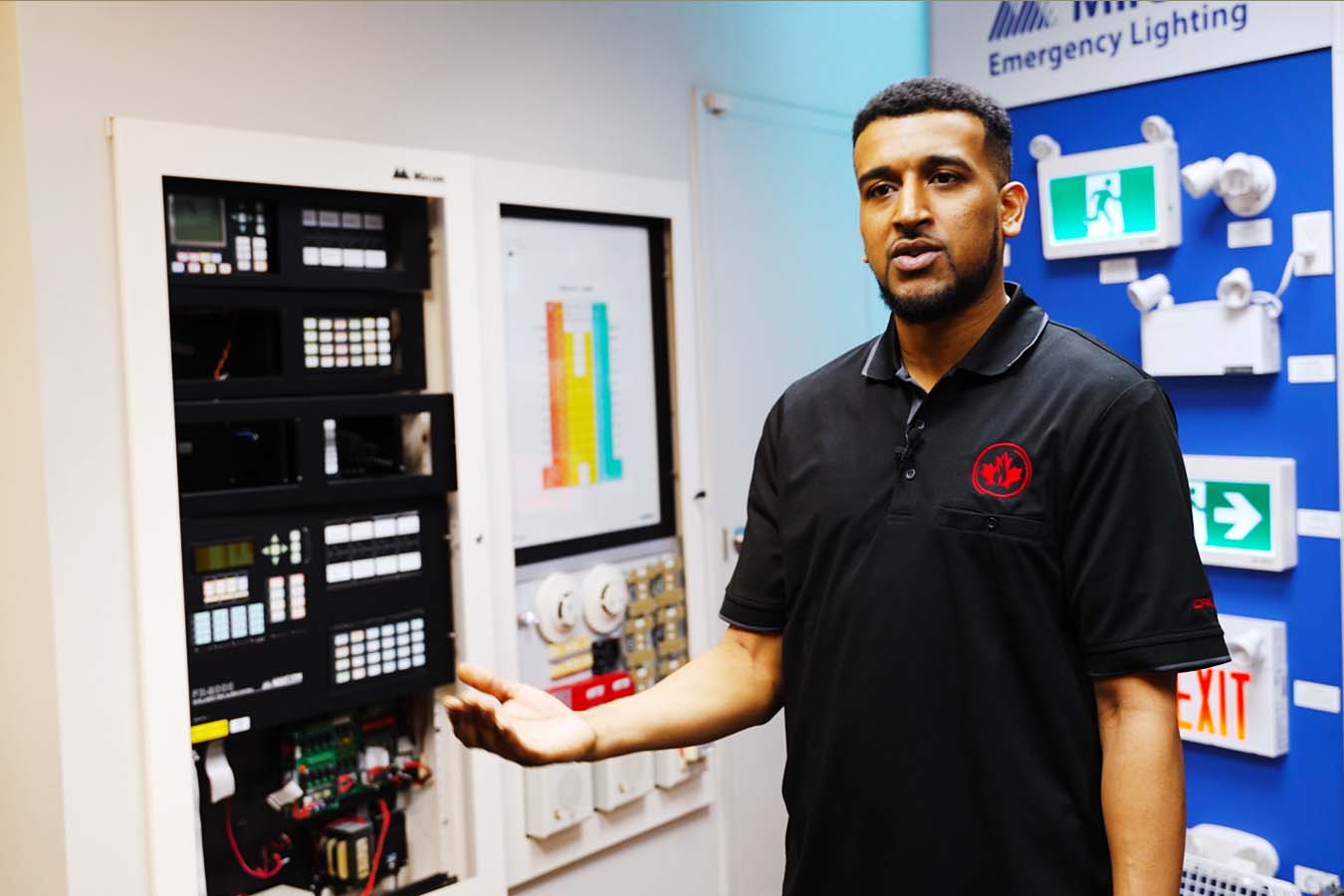 "Fire alarm service companies across Canada are always looking for fire alarm technicians. The CFAA was looking for ways to engage young people looking at career paths. The partnership with Edge Factor was a great fit. I was able to take part in the filming process and came away very impressed with the work that Edge Factor does and the content they created. This partnership will be a great resource to get people interested in the fire alarm industry." Jordan Klemick, Branch Manager - Fire Alarm at Troy Life & Fire Safety Limited
Edge Factor Founder Keynotes CFAA Annual Event
On June 21, 2022, Jeremy Bout, President & Founder of Edge Factor, had the privilege of sharing a keynote presentation to the hundreds of CFAA members, at CFAA's Annual General Meeting. He showcased the career exploration media filmed by the Edge Factor crew to highlight the power of storytelling in workforce development efforts, as he celebrated the amazing teams of people and opportunities in the fire alarm industry.
"CFAA is delighted to work with Edge Factor to create video media that highlights a "day in the life" of a fire alarm technician, along with tools and skills needed on the job. CFAA and our members will use these videos to promote careers in the fire alarm industry. Edge Factor's partnership with schools across Canada will engage students to consider a rewarding career in the fire alarm service industry." Suzanne Alfano, Executive Director, CFAA
CFAA and Edge Factor provide free Toolkits
Together, CFAA and Edge Factor understand the tremendous need to empower companies with tangible tools to build their workforce pipeline. Edge Factor and partners that include CFAA, provide four event toolkits throughout the year for companies, schools, and workforce leaders to share career media and inspire students and job-seekers to launch career pathways! Each toolkit is available for FREE for 3 months and includes videos such as Career Profiles, Soft Skills on-the-Job, virtual field trips, award winning edutainment films, and more.
Families, students, and community members are able to watch these videos in their homes, at live or virtual events, in presentations, over social media, in newsletters, and beyond.
With these toolkits and other components of this partnership, CFAA and their member companies will engage families and job-seekers at home and online, reach educators, school counselors, and students in classrooms, and engage community members at events.
CFAA member companies are invited to spread the word and share the links to view the toolkits, and when possible, to host presentations on the opportunities they offer. Each toolkit includes promotional tools and practical "How To" Guides for companies, schools, and workforce leaders to host an engaging event, with checklists on everything they need to know on how to plan, promote, host and follow-up on engaging virtual or live events.
Register today for the remaining free 2022 Toolkits.
Summer Camp Toolkit: available for free until August 2022 - Summer Learning Programs and Summer Camps are in need of turnkey tools to engage students! This toolkit shows how Science, Technology, Engineering, Art, and Math all come alive in real world careers! Perfect for summer camps or family activities.


Rock MFG DAY:

available for free in September - November 2022 - October is Manufacturing Day/ Month and we are providing the 2022 Rock MFG DAY kit for everyone to highlight the extraordinary world of advanced manufacturing. This toolkit includes resources to promote manufacturing careers and technology and showcase how STEAM comes alive in this industry.
Learn More About Edge Factor
Edge Factor unites workforce development efforts in communities through our platform. We have created thousands of videos, interactive activities, and lesson plans that focus on career exploration and highlight local opportunities. K-12 and Postsecondary schools, companies, and organizations partner with Edge Factor to help tackle workforce development regionally and nationally.
If you are interested in learning more about Edge Factor, create your free account and/ or register for an upcoming live webinar.
Questions? Feedback? Contact us.
Email: info@edgefactor.com or message us on the Live Chat. We'd love to hear from you.
Learn More about CFAA
The CFAA focus areas include:
Fire Alarm Technician Training Program which leads to registration that qualifies people to inspect, test, verify and maintain fire alarm systems across Canada.




Collaborating with colleges and other training partners to develop their own courses and programs based on the CFAA curriculum.





Providing education and training programs for property owners/managers.





Essential and widely-used fire alarm reference manuals developed by CFAA.



Technical seminars held across Canada for industry professionals and the public.
Learn more about Canadian Fire Alarm Association or contact Suzanne Alfano at suzanne.alfano@cfaa.ca today!