Larissa Hofman, Vice President of Edge Factor will be presenting live at the ACTE Arizona Summer Conference!
The ACTEAZ Summer Conference is one of the largest CTE conferences in the nation, with 6000 people expected to attend from across the state of Arizona. This event will focus on it's theme, "The Power of Connection" to provide educators, counselors, and industry leaders, with professional development sessions, and opportunities to connect with peers, program areas, and the CTE community. This event advances ACTE's vision of "Empowering educators to deliver high-quality CTE programs that ensure all students are positioned for career success."

We look forward to this event with great excitement, as Edge Factor's Vice President, Larissa Hofman has been invited to present. Larissa has been invited to speak at a few workshops to showcase how the new Edge Factor platform delivers unparalleled workforce development solutions that help learners of all ages, from K-Gray, map their Career Journey like never before!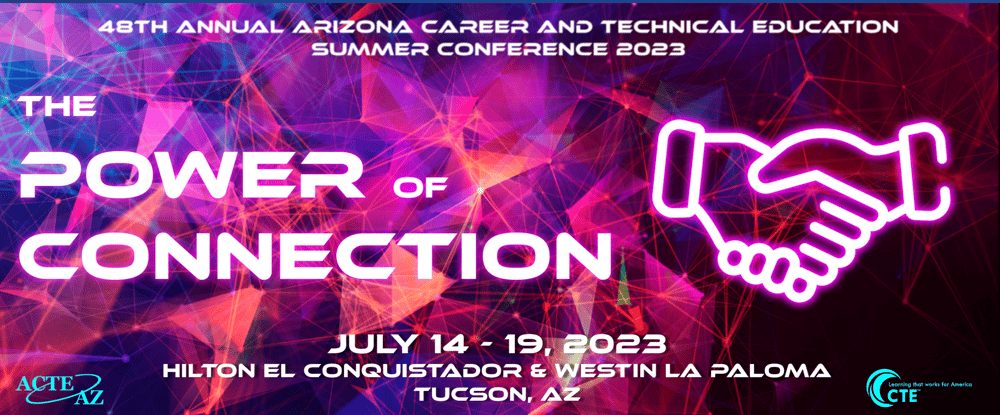 The event will take place live on location at the Hilton El Conquistador and the Westin La Paloma Resort, in Tucson, Arizona on July 14-19, 2023. This is the 48th annual ACTEAZ Summer Conference held to showcase the latest in cutting-edge CTE technology.
The event is being sponsored by Maricopa Community College, AZTECH Educational Resources, Rocky Mountain Tech, and Sundt and will cover a wide range of program areas including Administration, Agriculture, Construction, Education & Training, Health Sciences, Information Technology, and more. The event includes a keynote presentation by Dr. Jill Siler, a former superintendent, and author of Thrive Through the Five: Practical Truths to Powerfully Lead through Challenging Times. Some of the other highlights include onsite teacher certifications, ACTEAZ Premier Program series, hands-on workshops, interactive activities, and over 250 sessions.
On Sunday, July 16th at 10:00 am at the Hilton El Conquistador, during the workshop on Is Your Middle School Career Exploration Program Effective? Larissa will address how Edge Factor collaborates closely with frontline educators to enhance their career exploration curriculum for learners in middle school, ensuring that it is engaging, informative, and aligned with real-world industry trends and opportunities.
Then on Sunday afternoon at 1:30 pm at the Westin La Paloma Resort. Larissa Hofman will present "Unlocked: Story-Driven Tools to Empower Your Community". This presentation will highlight top ways that educators, companies, and local organizations can unite as they use digital, story-driven tools and experiences to impact lives and foster relationships. These tools will inspire K-12+ students to explore pathways, prepare to succeed in life and work, and connect with local community partners.
From there Larissa, will be back at the Hilton El Conquistador at 3:00 pm to share some exciting developments on What's New with the Yuma ABEC Middle School Career Exploration Project? Larissa will share how have Edge Factor has embedded the ABEC curriculum into the Edge Factor experience.
On Monday, July 17, at 1:30 pm Larissa will be at the Hilton El Conquistador to present during the Build It, and They Will Come! workshop to share how Edge Factor has created career media and learning tools aligned with the ABEC Construction Curriculum.

On Tuesday, July 18th at 3:30pm at the Hilton El Conquistador, you can catch Larissa presenting "Implementing Dynamic Career Exploration Programs" to school counsellors. In this session, Larissa will share how Edge Factor has aligned career media and learning tools with ABEC's Career Exploration Curriculum along with other strategies and resources designed for school counselors delivering career exploration programs to middle and high school students. The free resources highlighted in this session include My Future AZ, Possible Futures Career Exploration Curriculum, and Edge Factor.
Edge Factor, a popular e-learning platform, inspires learners to explore, prepare, and connect on their career journey. With thousands of videos, interactive activities, and educational lesson plans, Edge Factor provides resources and tools for career development.

We have released top content and pages created and recommended for different types of Educators! Every Educator from K -12, with premium Edge Factor memberships can access the full K-12 library and features. For educators who don't yet have a premium membership, we offer free memberships with specially selected programming available.
Learn more about the event!

Visit ACTEAZ Summer Conference event page to learn more. Registrations are still being accepted for this event until July 5, 2023.

Learn more about Edge Factor

If you are interested in learning more about what an Edge Factor membership can unlock, create your free account or register for an upcoming live webinar.

Get Connected. Stay Connected.

Sign up for the Edge Factor Newsletter and follow us on social media to receive the latest updates on features, events, and initiatives that will help you build the future workforce.

Questions? Feedback? Contact us.

Email: info@edgefactor.com or message us on the Live Chat. We'd love to hear from you.