Partnering with the Halton Catholic District School Board (HCDSB) Edge Factor created new career media in the Halton community, aimed at empowering students to explore careers in Indigenous Culinary Arts and the Automotive Industry!

Using the power of cinematic storytelling, Edge Factor takes learners on a career journey from "I have no idea what I want to do with my life!" all the way to, "I have browsed the opportunities, made informed decisions, and launched a local training and career pathway."
Edge Factor is a family-friendly career exploration platform, where students, parents, and job-seekers become inspired to launch their own training and career pathways. It features real-life stories of people pushing back the edge of what's possible and using their minds, hands, and technology to build the future and impact lives.
In partnership with the HCDSB the Edge Factor film crew went behind closed doors at 4 Winds Indigenous Catering, located in Toronto. We captured Indigenous Chef and Entrepreneur Douglas Trudeau of the Six Nations of the Grand River who shares how he prepares food that tastes great and is healthy as well. He does this with medicine-infused Indigenous cuisine using natural ingredients grown on Turtle Island. Edge Factor filmed media for high school students which includes a Career Profile video and 2 Soft Skills on the Job videos!


The Career Profile videos help students and job seekers explore what a "day in the life" looks like in diverse careers while highlighting typical responsibilities, tools, and skills used on the job. Chef Trudeau shares how he prepared for his career as a Chef & Entrepreneur through an apprenticeship program and continues to learn from elders.


"A typical pathway is a long journey…you have to start at the bottom," says Chef Trudeau in the Career Profile video. "Learn from the bottom up, not top down. You will have more success and more appreciation as well."


Soft Skills on the Job features industry professionals sharing important soft skills they use in their career. This series provides learners with an opportunity to reflect on skills they'll need to develop as they prepare for the world of work. Chef Doug showcases how quality control and coordinating a team are skills he has to develop to be successful in his career.

Edge Factor also had the opportunity to film an episode for our Skilled Responders series at Notre Dame Catholic Secondary School, in the Transportation Technology classroom.
Edge Factor's Skilled Responders series features real life people, working in various industries, sharing what inspired them to launch their training and career pathways. This series inspires students to explore careers as they experience the enthusiasm and passion industry leaders have for their careers. This episode features Jackie Levesque, a graduate of Notre Dame who is currently a Mechanic Apprentice, working with Attridge as a Small Bus Mechanic. Jackie shares her passion and her pathway to and success in the skilled trade where women are underrepresented.
"Ever since I was a kid, it's what I've loved to do, being able to take things apart, put things back together. That mystery of finding what's going on, whether it be that little wire that's pinched or just a fuse that's blown and just enjoying your day to day activities." - Jackie Levesque, Small Bus Mechanic, Apprentice
Jackie is also featured in episodes we've created for young learners including:
Navigators: Students in Grades 7 - 8 navigate career options as they watch industry leaders share an overview of their career and describe the tools, equipment, processes, STEAM, and Soft Skills they use on the job. This dynamic career exploration tool also includes downloadable lesson plans for educators and assignable pre and post-activities for students. Jackie's episode highlights the key aspects of her job that students need to know as they head into high school!
Explorers: Students in grades 5 - 6 explore careers across diverse industries and discover how Science, Technology, Engineering, Art, and Math come alive in the real world! Each video includes assignable pre and post-activities for students and downloadable lesson plans for educators. Jackie talks about the ways her role as a Mechanic Apprentice uses STEAM!

What's In Your Toolbelt

:

In this series, students in Grades 3 -4 discover that you need to use the right tools for the right job! Real-life people answer the question, "What's in your toolbelt?" as they show and tell the different types of tools, gear, or equipment they use on the job. In her episode, Jackie walks us through the top tools she uses every day.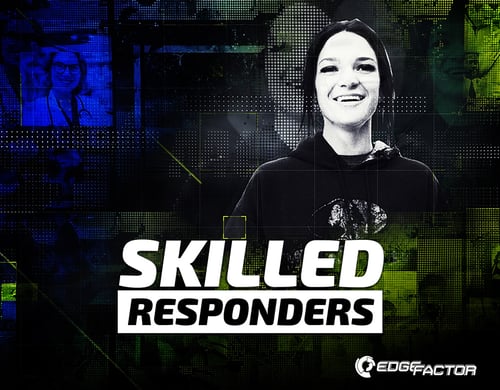 Learn More About Edge Factor
Edge Factor unites workforce development efforts in communities through our platform. We have created thousands of videos, interactive activities, and lesson plans that focus on career exploration and highlight local opportunities. K-12 and Postsecondary schools, companies, and organizations partner with Edge Factor to help tackle workforce development regionally and nationally.
Watch and share today!
Premium Edge Factor members can log in to watch and share all the media included in their Edge Factor membership.
Not a Member Yet?
You can create an account and access the free programming we have available this month which includes the Diversity in the Skilled Trades Toolkit.
If you are interested in learning more about Edge Factor, register for an upcoming live webinar.
Questions? Feedback? Contact us.
Email: info@edgefactor.com or message us on the Live Chat. We'd love to hear from you.