As we begin the new year, I find myself re-thinking many things. I see the world shifting and moving and it has me evaluating the work I do and people I have met…. and I will say: I have met some wonderful people over the years. People who I have learned from and who have shaped the person I am today. In many ways, the success we experience at Edge Factor is largely because of the influence good people have had on us as a team.
You are who you surround yourself with.
When you take an introspective look at what brought you where you are, it's clear that you are often the result of who you hang out with, who you listen to and who your mentors are. The character traits they have will rub off on you. The questions they ask will shape you, the counsel they give will guide you... so be careful who you hang out with.
I never want to forget the lessons I have learned from the great people who have come alongside me as I have started this company called Edge Factor. These individuals have been a great example of the traits that make a successful person.
Learning how to be a Successful Person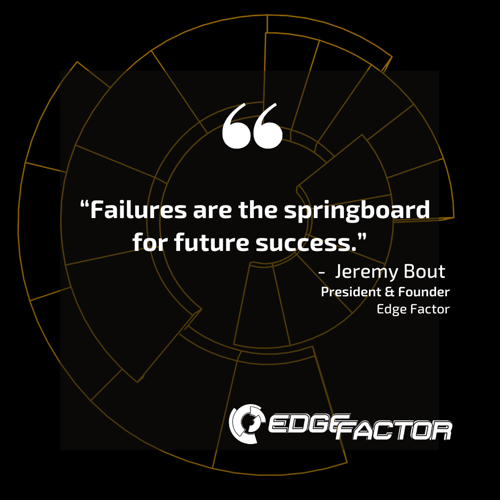 We all want to be successful, whether you are working towards professional success to launch a new business, developing your career or you're working on areas for personal growth. It's important for you to learn three simple tactics to practice on your way to becoming a successful person.
Listen to learn and understand. This isn't just about practicing good listening skills by giving your full attention, staying focussed and not getting distracted. This is also about carefully choosing the right people to listen to. Listen and learn from those who have experienced success in the areas you want to succeed in. Ask them questions, then listen to ensure you understand what they are saying.
Focus on the positive things you learned from others, the successful person doesn't wallow in self pity or focus on their failures. Their failures become the springboard for future success.
Articulate the qualities you value. Be specific. Move beyond general terms. List out the specific details that make a person great. Knowing what you value and being able to articulate them will shape your own story, and what it is that value in yourself and help you make decisions about your career.
Thank the people who help you. It's no secret that a grateful attitude is healthy for everyone. We all want to feel valued and showing gratitude provides encouragement and respect for others. It also changes our attitude. Being grateful for others demonstrates humility as we acknowledge that we could not have succeeded without them.
While I may have thanked people along the way, I want to acknowledge and thank a few of them specifically. I will be posting a series of blogs where I will focus on individuals who have experienced and taught me about career success. These individuals have taught me that being a successful person is about taking calculated risks, running with runners, learning by living and offering encouraging words.
These are just a few of the many valuable lessons I have learned along the way. I am excited to honor these individuals in a special way through this upcoming series of blogs. I hope you will be empowered on your journey to become a successful person.
Jeremy Bout is the Founder and Producer of Edge Factor. Learn more about his career journey.
Are you looking to equip the future workforce with the skills they need to succeed? The Future Skills Toolkit provides turnkey tools and high-impact resources to inspire students and job-seekers to enroll in local technical education programs. This toolkit is available for FREE from January 3, 2022 to February 28, 2022.
Edge Factor's Future Skills Toolkit includes 5 days of career exploration media, including Virtual Workplace Experiences, and tools to showcase how Soft skills and STEAM (Science, Technology, Engineering, Art and Math) are used in real world careers. The toolkit also includes an inspirational keynote presentation by Edge Factor President and Founder, Jeremy Bout. Schools, companies and workforce leaders can access the "How To" guides to learn how to host engaging events that celebrate and promote technical education programs.
Not an Edge Factor Member Yet?
If you are interested in learning more about what an Edge Factor membership can unlock, create your free account or register for an upcoming live webinar.
Questions? Feedback? Contact us.
Email: info@edgefactor.com or message us on the Live Chat. We'd love to hear from you.