Ontario is known for its vibrant multiculturalism and varied landscapes. It's also part of the North American manufacturing heartland with industries ranging from agriculture, to mining minerals, manufacturing automobiles, designing software and leading-edge technology.
Behind these industries and manufactured products are community members, business leaders, entrepreneurs and master tradespeople. Their inspiring stories make up the tapestry of this great province. They are building livelihoods, raising families and making a difference in the lives of their communities.
A healthy economy relies on the people in the communities. In those communities we have businesses that have their own micro economy. These micro economies create an ecosystem of training for current and future careers. How do we inspire the next generation to explore existing careers and prepare for careers that may not even exist yet?
It All Starts With a Great Story
Every life is a story. At Edge Factor, we love to tell stories of individuals who are using their hands and minds to push back the edge of what's possible. Stories of real life people making a difference in their communities, who are building ecosystems and paving the way for the next generation of innovators, manufacturers and entrepreneurs.
Approximately 18 months ago, the world changed and class trips were not possible. Edge Factor's production team went behind closed doors to film Virtual Workplace Experiences. These virtual tours showcase companies and careers, and help students who are exploring skilled trades careers. The accompanying lesson plans provide educators with additional resources to help a student continue their career exploration within a specific industry sector.
Building off the success of this series, Edge Factor is now making freely available, the all new, Made In Ontario series, featuring some of the incredible companies, stories and careers that were featured in the Virtual Workplace Experiences.
It takes a Community to Build Community
It has been said that entrepreneurs are builders of ecosystems. Entrepreneurship drives economies, but the success of entrepreneurs depends on those around them. Building relationships and connections with other entrepreneurs, workforce development leaders and community members drives the success, innovation and sustainability of these ecosystems.
Students and job-seekers need to connect with local career & training opportunities. When students and job-seekers use the Edge Factor platform to explore careers, the journey we take them on leads to the connection stage. At this stage in the journey, they can connect with companies, post secondary institutions and apprenticeship programs so they have an idea what opportunities exist in their community. This helps them to set realistic and attainable goals. Many of the students we work with share how they have gone from, "I have no idea what I want to do with my life," to discovering a clear career pathway. For many of them it involves discovering a skill or passion they have and realizing they can make a difference in their community and earn a decent living while doing so.
Strong Ecosystems combine passion

AND

leadership.
We had the opportunity to work with Boatbuilder, Andrew Macrae of Macrae Marines who took his passion for sailboating and turned it into a business providing a service to the community. With over 60 years combined experience in the marine industry, Macrae Marine represents a select group of specialized marine tradespeople who build, repair and restore boats.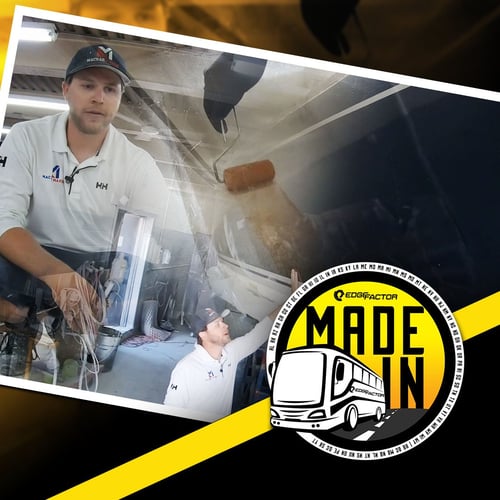 Sustainability is meeting the needs of the present without compromising the ability of future generations to meet theirs. It has three main pillars: economic, environmental, and social. The team at Zibi are creating a place where people can live, work and play in one creative island, and it's all brought together in a sustainable way.
Jeff Westeinde, President and CEO of Zibi shared that Zibi is going to be one of the world's most sustainable communities, both ecologically and socially. Zibi is a 34 acre development that spans the border between Ontario and Quebec.
"A project like this is not possible without the help of skilled trades, engineers, professionals & architects." Jeff Westeinde.
We all have a role to play in building a strong ecosystem of training for skilled trades workers in Ontario. Strong ecosystems need strong connections between schools, universities, and the private sector so talent, supply and demand are efficiently matched.
"The world of work is changing. Changes in technology, demographics, and the environment are shaping the jobs of the future and the skills that workers will need to succeed in these jobs." -Ontario 360, Policy Papers
Visit Edge Factor Ontario Has the Edge page to discover how you can do your part to build the workforce pipeline and bridge the skills gap.
Learn more about Edge Factor
If you are interested in learning more about what an Edge Factor membership can unlock, create your free account or register for an upcoming live webinar.
Questions? Feedback? Contact us.
Email: info@edgefactor.com or message us on the Live Chat. We'd love to hear from you.