For Immediate Release:
November 6, 2019, Hamilton Ontario – Every day, families drive past companies and schools in Hamilton… But often, they have no idea what's going on behind closed doors.
Students are searching for what they should do after high school, but do not have the tools they need to make an informed decision. People are graduating with 4+ year degrees and struggling to find work in the field they studied in. Parents are eager to help their kids launch a rewarding career, but are unaware of modern and local opportunities. SHSM and OYAP programs are sometimes struggling to recruit new students, despite the high demand for work-ready, students. All the while, companies are eager to grow and fill positions left by retiring baby-boomers.
In Hamilton, a partnership has formed between the Industry-Education Council of Hamilton (IEC) and Edge Factor to tackle workforce development challenges, inspire students, reach parents and job-seekers, and build relationships between local companies, schools, and families. This partnership will help unite community leaders, companies, schools, and families to showcase local training and career pathways and celebrate the amazing opportunities our community offers.
"It is encouraging to see Edge Factor and the Industry-Education Council of Hamilton team up to support area youth through local employment needs and online career exploration," said Kevin Graham, Principal, Student Success, HWDSB. "At Hamilton-Wentworth District School Board, we are excited to help students benefit from this collaboration by developing their skills and exploring future career options."
Edge Factor uses the power of cinematic storytelling to showcase real-life stories of people using their heads, hands, and technology to push back the edge of what's possible, make STEAM relevant to the real world, instill soft skills, and ultimately, take people on a journey to discover how they can launch exciting career and training pathways, right in their own community. All of these tools are available on their smart streaming service, edgefactor.com/HamiltonON and everyone in Hamilton has FREE access to all of the films, TV episodes, and career exploration tools!
The IEC is spearheading this initiative in Hamilton, as they build bridges between industry and education to onboard schools and businesses to use the platform, providing information on the available programs and careers. "The IEC has been working with educators and the broader community to enhance learning opportunities, through various programs over many years, but Edge Factor provides a very dynamic way of informing our youth about local career opportunities," said Cesare Di Donato, Executive Director, Industry-Education Council of Hamilton.
Every high school student and educator in the Hamilton-Wentworth Catholic District School Board, Hamilton-Wentworth District School Board, and Mohawk College have access to the platform and are implementing these tools in classrooms and homes. These schools will be able to add profiles on the OYAP, SHSM, internships, Skills Ontario and postsecondary programs they offer.
"We are very excited for our students and the learning experiences that they will have through the IEC's partnership with Edge Factor. Edge Factor has created an online platform that provides high quality, dynamic, cinematic experiences that highlight Hamilton companies looking to improve their future workforce. The Edge Factor platform will support career development for our youth as they plan their educational pathway," commented Sandra Pizzuti, Superintendent of Education, HWCDSB.
As schools roll out these resources, the IEC is also connecting with Hamilton-based businesses to raise awareness of the opportunity for them to add Company, Career, and Training Profiles to help students, parents, and job-seekers discover local opportunities. Part of this initiative will include filming local content, such as Career Profile videos in local companies. Edge Factor's Founder and President, Jeremy Bout, helped to launch this partnership with a dynamic presentation at the IEC's AGM in March 2019 and the IEC will have some exciting upcoming announcements on how local companies are getting involved.
"We partner with communities across North America to tackle workforce development. While every community is unique, many of the challenges they face are the same – How can we take students on a journey from, "I have no idea what I want to do to with my life!" to successfully attending a local training program and launching a successful, local career pathway?" commented Larissa Hofman, Vice President of Edge Factor. "As a Hamiltonian myself, I couldn't be more excited to see the impact this will have in my own hometown."
This partnership is supported by the City of Hamilton, as Norm Schleehahn, Manager, Business Development, City of Hamilton said, "The IEC and Edge Factor partnership represents a positive move forward in Hamilton for connecting the education sector with the corporate community. Hamilton Economic Development is pleased to support this workforce initiative and is excited about the results this collaboration will bring to the city's economy."
For more information, contact the Industry Education Council of Hamilton: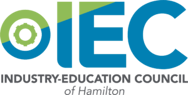 Cesare Di Donato
905-529-4483 ext 225